The Tummy Tuck: Battling the Bulge
Posted October 08, 2015 in Practice News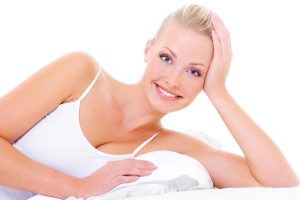 If you've gone through a huge weight loss (or if you've had a few kids), you probably have some extra fat and sagging skin in your abdominal area. It's perfectly normal; a lot of women are battling the bulge, just like you. It's also perfectly normal to feel insecure and to want to do something about it. So, you exercise a lot and put yourself on a strict diet. The sad truth is, regular exercise and diet don't always tame the tummy.
A tummy tuck, also known as abdominoplasty, can get rid of unwanted belly fat and achieve what diets and exercise regimens could not. It's designed to remove stubborn fat deposits and sagging or "hanging" skin in the abdominal area, and tighten the abdominal muscles. The result is a flatter, more toned stomach.

This plastic surgery procedure is not an alternative or substitute to weight loss, neither should it be a replacement for exercise and a nutritious diet. In fact, the best candidates for this procedure are individuals who are already at a stable weight and are leading an active, healthy lifestyle.
If you feel a tummy tuck is the procedure for you, you should consult a Board-certified plastic surgeon like Dr. LaDawn Talbott in Reno. During this consultation, the plastic surgeon will address any concerns or questions you may have. More importantly, they will study your situation and take into account your personal goals and expectations, to ensure that a tummy tuck is the best cosmetic surgery procedure for you. The plastic surgeon will also discuss the costs, as well as the recovery process and any risks associated with the procedure. Make the most out of this consultation and ask the right questions, because a tummy tuck is a major surgery that could change your life drastically.
Majority of tummy tucks in Reno are performed on an outpatient basis at accredited plastic surgery centers. If a patient prefers it, a tummy tuck can also be performed in a hospital. Bruising, swelling, and/ or abdominal pain are normal following surgery, and these symptoms usually subside over the next few weeks. Any strenuous activity should be avoided for at least six weeks, but patients can normally return to work after just two weeks. The length of recovery varies from patient to patient, and your plastic surgeon should be able to give you comprehensive post-operative care instructions for you to follow. Visit our Tummy Tuck page to learn more about the procedure and the recovery process.
Once you get a tummy tuck, your long battle with the bulge will be over. It's important to remember, though, that you will still need to maintain the results of your Reno abdominoplasty through proper diet and exercise, so be prepared to make certain lifestyle changes.
Contact Talbott Plastic Surgery Center
Considering a tummy tuck in Reno? Schedule a COMPLIMENTARY consultation with Dr. LaDawn Talbott, a Board-certified plastic surgeon and an expert in body contouring. Contact us today! Get a $300 Gift Certificate to Renew MD when you schedule your procedure during your consultation. Read the promo mechanics.