Brazilian Butt Lift: Your Questions Answered
Posted May 19, 2016 in Practice News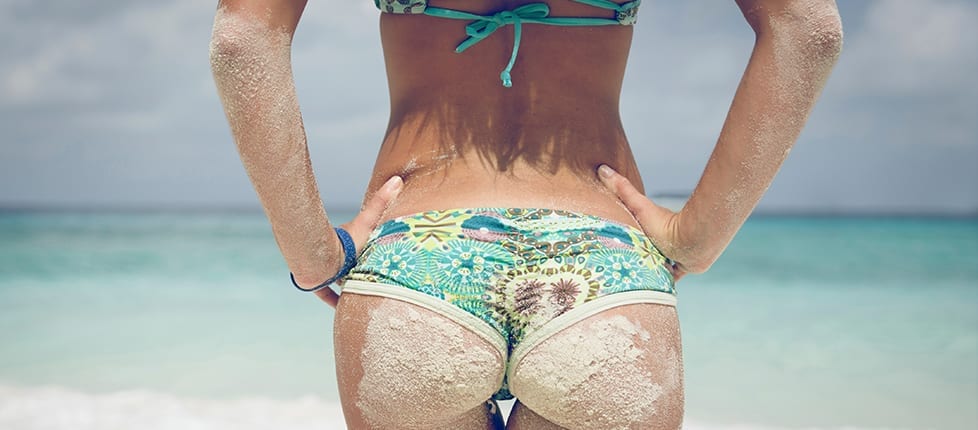 Americans like big butts, and the numbers don't lie. Last year, plastic surgeons in the U.S. performed nearly 10,000 buttock augmentations, up from the approximately 8,500 done in 2012, according to new stats from the American Society of Plastic Surgeons.
American standards of beauty have changed drastically since the 1990's, when the "heroin chic" look popularized by designers like Calvin Klein and models like Kate Moss, was influential. While tall, painfully thin, and angular body types set the standard for American beauty in the 1990s, people today seem to have more of an appreciation for curves. Celebrities with hourglass figures like Kim Kardashian and Jennifer Lopez have gained fame for their voluptuous derrières and people are taking note. More and more women who want to enhance their natural curves and and add volume to their buttocks are electing for a Brazilian butt lift.

What is a Brazilian Butt Lift?
A Brazilian butt lift, also known as buttock augmentation, is a surgical procedure that uses implants, fat grafts, or a combination of both to enhance the size and shape of the buttocks. The results of this procedure include a lifted, fuller, and more sensual backside.
Is a Brazilian Butt Lift Right for Me?
Candidates for this procedure include healthy men and women who are dissatisfied with their:
Disproportionately small buttocks
Uneven, or asymmetrical buttocks
Flat buttocks
Sagging buttocks
Buttocks that have undergone dramatic weight loss
Brazilian butt lift patients who are very thin are often a good fit for buttock implants. The implants are made of solid silicon for a firm but natural feel. Patients who want to enhance their buttocks while losing fat in other areas are typically a good fit for fat grafting.
How Does a Brazilian Butt Lift Work?
Brazilian butt lifts are performed under general anesthesia as a same-day surgery. The first step towards getting a Brazilian butt lift is to schedule a consultation with a board-certified plastic surgeon like Dr. LaDawn Talbott. Dr. Talbott works one-on-one with every Brazilian butt lift patient to determine if fat grafts, implants, or both should be used to meet the patient's goals.
If fat grafts are used to enhance the buttocks, Dr. Talbott uses liposuction to contour and remove fat from other areas, like the tummy, thighs, and back. The extracted fat is then carefully purified before it is injected into each buttock, creating a full and lifted appearance. If implants are used, the surgeon makes a small incision in the fold between the two buttocks and inserts the implant under the gluteus maximus muscle.
How Much Does a Brazilian Butt Lift Cost?
The cost of a Brazilian butt lift depends entirely on the patient's body type and goals. That being said, Brazilian butt lift patients should be prepared to spend between $4,000 and $10,000 on their procedure. Keep in mind that liposuction and body contouring are also included in this procedure!
For patients who want to split the cost into multiple payments, Talbott Plastic Surgery Center offers cosmetic surgery financing through CareCredit®, a healthcare credit card specifically for one's health and beauty needs. You can learn more about CareCredit® here.
Are the Results Permanent?
Where you opt for implants, fat grafts, or both, the results of a Brazilian butt lift are permanent. Patients should not be concerned that the fat grafts will disappear over time, because once the fat cells are revascularized, they begin to act like any other fat cell in your buttocks. If the patient gains weight, the size of their derriere will increase accordingly. Weight loss may cause the patient to lose some fat in the buttocks, but the round and lifted shape will remain unchanged. In other words, small weight changes are likely insignificant, but large weight changes (greater than 5-10% of your body weight) may impact the size of the buttocks.
One thing that Brazilian butt lift patients should avoid is spending too much time sitting down during the recovery period, as sitting can harm fat that has not fully revascularized. It is recommended that patients do not sit for more than 1 hour at a time for the first month following their procedure.
Is There a Recovery Period?
The recovery period for a Brazilian butt lift is typically 10-14 days, so people interested in this procedure should plan on taking two weeks off of work. Brazilian butt lift patients should not sit on their buttocks for 10-15 days following their procedure, or they will risk ruining the shape that Dr. Talbott created. Exercise and strenuous activities should be avoided for four weeks following the procedure.
Contact Talbott Plastic Surgery Center
Are you considering a Brazilian butt lift? Would you like to learn more and explore your options? Contact Dr. Talbott today to schedule your consultation!